EquineR4U

Gibson and Conley Quarter and Paint horses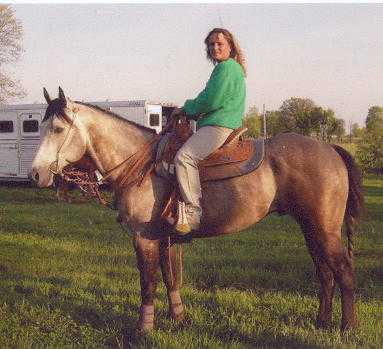 "Dandy"  He is a Quarter horse, Dun, Buckskin, Stallion.

Cols Dandy Lad ID# 3708687 AQHA, He is foundation bred.

     This horse is beautiful, very athletic, and smart.  He can do it all.  We have taken him on trail rides and to horse shows.  He has been trained to barrel race. He was only taken 7 times to the shows and he ran 1 second off 1D.  Dandy is very quiet tied to the trailer. He has wonderful manners in and out of crowds. Also, Dandy is very well mannered when breeding.

  He has babies on the ground and some are turning 3 years old. They are now starting to go to shows themselves. One of them (
Spirit
) won 3rd place at the Indiana State Fair at halter in the yearling class. A 10 year old girl has been showing him.  All of the babies have been just like Dandy. They are beautiful, well built, smart, and athletic. All around great horses.  All of the babies are dun's but, the colors have been buckskin's or grulla's. One may end up a blue roan. 
Dandy is 15.1 hands and his weight is1100 pounds.

Dandy is for sale and will stand at stud until sold. 

Dandy $7,500.00

Stud fee 400.00

Booking Fee $100.00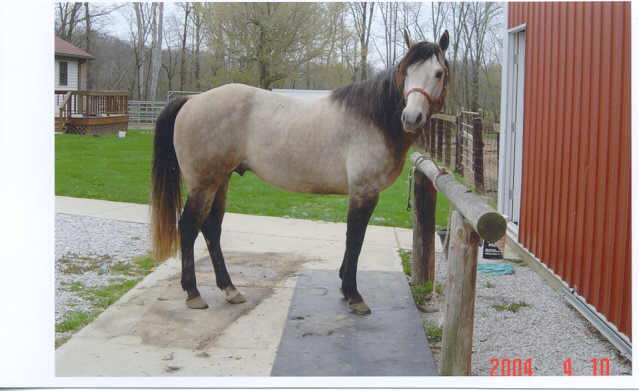 SOLD SOLD SOLD SOLD SOLD SOLD

SOLD SOLD SOLD SOLD SOLD SOLD

SOLD SOLD SOLD SOLD SOLD SOLD

SOLD SOLD SOLD SOLD SOLD SOLD